You're braver than you believe, stronger than you seem and smarter than you think. — Christopher Robin
This pandemic has brought so many challenges socially, educationally, and mentally for many people including our most precious beings-our students. But on the flip side, perseverance, work ethic, celebration, collaboration, and yes, even joy have come as a part of the many successes within Great Falls Public Schools.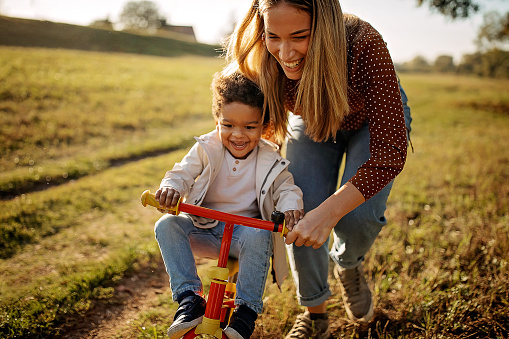 Come along with "Mom" and I  as we narrate one child's journey from March of 2020 to the present to see how resilient children, parents, and educators are and can be. 
March-June  2020
Liam was only 4 at the time and a preschooler at the ELF Center at Skyline when the schools shut down in March 2020. Even though the District pivoted quickly and provided materials to continue "school" at home, there was still so much learning to accomplish. Parents across the district were grappling with how to manage schedules for work and school, in most cases, for more than one child. Liam completed preschool via remote learning with the help of his parents and the help of weekly packets, YouTube videos, check-ins from his teachers, and even his principal for the remaining spring.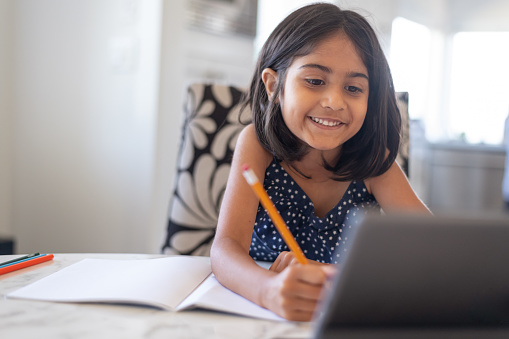 One such check-in demonstrated just how much his principal, Colette Getten, and teachers cared about Liam's well-being. Liam was sick with a fever in April of 2020 and Colette texted Mom this message and picture, "Tell Liam to get well and that we all miss him, including Buzzy Bee!" 

"It was difficult for a highly active, outdoorsy, and interactive/kinesthetic learner to be home for months. But the preschool utilized YouTube videos for reading his favorite books, and finding STEM activities to get out and learn as a family," says Mom.
She adds, "With the help of his teacher, Miss Jess, Liam was able to connect with his best friend to set up weekly virtual playdates.
Several times a week I was taken slightly back to the "good ol' days" as I listened to both boys squealing in delight- playing virtual games through their iPads, and laughing at each other's silly selfie filters or dinosaur masks. A few times a week, it was a relief to see Liam share a guttural laugh with his little companion."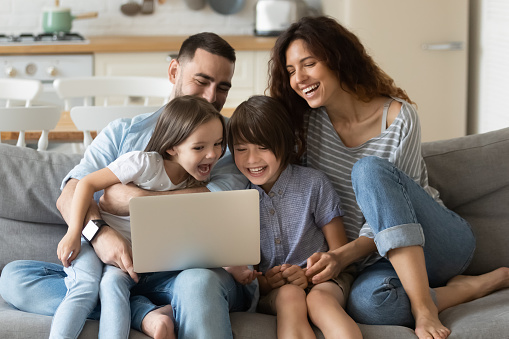 School may have been closed for only a quarter the Spring of 2020, but many parents, Liam's mom included, wished and even pleaded for the schools to reopen in the Fall. The stress of "being a teacher when you may not be equipped to do so" and trying to work from home to maintain family security weighed heavily on parents' minds. But families persevered and kids did grow in their learning. Each sliver of  growth was a win.
"Never forget who was with you in your struggle." S.A
August 2020-June 2021  GFPS
Liam began the 2020-2021 school year in Kindergarten at Giant Springs. With in-person learning came the reality of learning gaps, especially for a child with an IEP. Even though reading books all summer long and knowing Liam was on the right track, it was hard for Mom to see him struggle so much.
Anxiety was an ever present reality. Keeping up with continued responsibilities and homework to narrow the gap added even more pressure.
Then Covid cases rose to an unsafe level. Schools were closed for a short time around Thanksgiving break. The possibility of closure for the remainder of the year was terrifying for Liam's parents. Thankfully, schools reopened. Tremendous work ethic on Liam's part and continued collaboration and support from his teachers paid off!

Liam's mom fondly recalls the end of the year special event. "The pandemic halted the traditional graduation that his older brother experienced, but it was a celebration that he enjoyed. He was the center of attention in a drive thru graduation. He experienced a show of socially distanced atta-boys and praise while sucking on a green popsicle from his car seat as we slowly cruised through the parking lot."

August 2021-present
Liam, now a 1st grader at Giant Springs Elementary, has known masks, quarantining, and social distancing since he entered the school environment. Liam and peers his age have been no strangers to the "alternative reality that we "grown-ups" have had to adjust, pivot, adapt." And adapt these children have. Still, Liam's mom wonders if Liam will ever catch up in all areas of the school world. It seemed like the past two years have been "one step forward and two steps back."
But this year, Liam is BLOSSOMING! His first grade teacher, Randi Johnson Hall (paid with ESSR funds), works with Liam 3x a week after school to build and maintain foundational skills. One of Liam's special education teachers, Ms. Yoder, reports that Liam has grown "tremendously."

This collaboration is cause for celebration. It resulted in Liam coming home this fall with a certificate for accomplishment in reading.
We have always held to the hope, the belief, the conviction that there is a better life, a better world, beyond the horizon. — Franklin D. Roosevelt
Hope with action will bring this pandemic to an end beyond the horizon. In the meantime, we can work together, persevere, and celebrate our successes. We can make not just Liam's world better, but all our students' worlds better. Thank you Great Falls Public Schools.